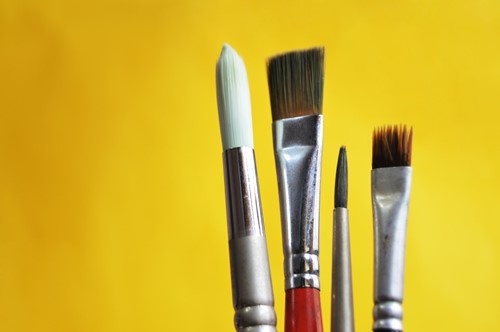 If you want a creative project that won't break your budget, consider DIYs with paint. Painting an entire room or house can take time and effort, but smaller projects can be accomplished in a single weekend. You can even make your own custom decor by upcycling items you already own. Here are some budget-friendly DIY ideas with paint to try:
Decorate your coffee cup
Bring new life to your old cups and mugs by adding some paint. There are many kinds of paint you can use depending on what the cup is made of. Acrylic paints will work on most surfaces, but check the label to make sure it's suitable for glazed ceramic, glass, metal or plastic. For a simple and modern geometric DIY paint project, try making angles and shapes with painter's tape. Opt for metallic gold or silver to add a bit of shine.
Paint your chalkboard wall
Another fun DIY with paint is creating your own chalkboard wall. You can buy chalkboard paint at any craft or home improvement store and use it to transform any surface in your home. For a simple chalkboard wall DIY, section off a rectangular space on the wall with painter's tape. Fill in the space with a solid coat of paint, adding more if the included directions recommend it. Once it dries you'll have a perfect spot for doodles, lists and pretty cool inspiring messages.
Add color to drawers and cabinets
If you have dressers, cupboards or cabinets with drab, unpainted drawers, try adding a fresh coat of paint to the inside surfaces. You can add fun pops of color to the inside of dresser drawers and even the backs of shelves. The color choice is completely up to your preference, whether you want something bold and bright or neutral. Even a coat of bright white on the inside of a drawer can refresh the entire piece and make the storage space seem larger.
These are just a few of the best budget-friendly DIY ideas with paint. Try these and other paint projects to add new life to your existing walls and furnishings.